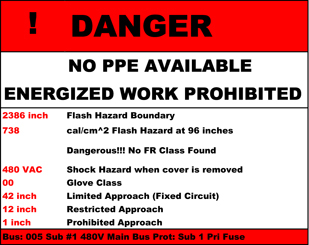 Arc Flash Analysis & Mitigation



NFPA 70 "National Electric Code" (NEC) in Article 110.16 "Flash Protection" states that electrical panels in industrial facilities, that are likely to receive service while energized, "shall be field marked with a label indicating the incident energy available, or the rating of needed protective clothing in calories per square centimeter, to warn qualified persons of potential electric arc flash hazards and to aid in the selection of flame resistant clothing and other personal protective equipment. The label shall be located so as to be clearly visible to qualified persons before examination, adjustment, servicing, or maintenance of the equipment."

What is an Arc Flash?

An arc flash is the result of a rapid release of energy due to an arcing fault between a phase conductor/bus and another phase bus/conductor, neutral or a ground. During an arc flash, the air ionizes and becomes a conductor. An arc flash can generate temperatures exceeding 5000 degrees in under a second and can ultimately vaporize metal in the equipment. The rapid heating of the air coupled with the vaporization of metal generates a pressure wave centered on the origin of the arc. Dependant on the magnitude, this can cause severe burns, damage hearing, concussion, memory loss or even death.

What causes an Arc Flash?

Short circuits can be caused by a number of issues including, dropped tools, accidental contact with live parts, deteriorating or aging electrical systems and components, or excessive conductive dust.

Additional Code Requirements:

OSHA (29 CFR 1910) requires that employees working in areas where there are potential electrical hazards shall be provided with, and shall use, electrical protective equipment that is appropriate for the specific parts of the body to be protected and for the work to be performed.

NFPA 70E-2018 provides proper guidelines for conducting Arc Flash Hazard Analysis that will illustrate where potential arc flash hazards exist throughout your electrical system and denotes the required personal protective equipment.

Contact HMT to learn more about the benefits of conducting an Arc Flash Analysis.