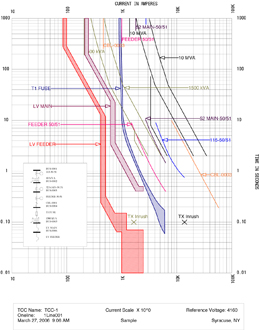 Protective Device
Coordination Studies
What is a Protective Device Coordination Study?
Electrical systems commonly utilize fuses or circuit breakers to protect electrical equipment such as conductors, transformers, motors, and other related components. When a failure occurs, a short circuit or fault will usually result. A properly coordinated system ensures that the protective devices are properly selected and calibrated to minimize the impact of a system failure. A coordination study analyzes the characteristic curves of the fuses and breakers and compares them against each other.
A large percentage of electrical power distribution systems are designed with insufficient protective device coordination. Systems are typically designed to minimize the probability of a system failure while maintaining a cost conscious approach. This approach generally does not ensure the proper coordination of the protective devices. Equipment failures can often result in costly shutdowns or can compromise the safety of your facility. A Protective Device Coordination Study will examine the impact of short circuits while identifying potential equipment failures within your facility. Our team of highly qualified Professional Engineers will complete and analyze the results of a coordination study to verify system protection and will provide corrective solutions if your system is deemed at risk.
Does my facility need a Protective Device Coordination Study?
If you answer "yes" to any of the following questions or if they describe a situation that you have experienced, you should consider a study.
Recent electrical equipment failures within my facility have caused extensive and costly shutdowns.
I am in the design phase of a new building or addition to an existing facility
Do I have or am I planning to install emergency generators, uninterruptible power supplies or static transfer switches in my electrical system.
Do I have critical equipment or inventory that could be damaged if a long term power outage occurred.
These are merely a representative sampling of some of the questions to consider. A Protective Device Coordination Study will examine your system enabling you to implement corrective action prior to experiencing a failure. At HMT, our engineers possess the knowledge and experience within all phases of power system design and analysis. Your study will effectively identify system deficiencies accurately and corrective solutions will be derived, interpreted and implemented.